Product Description
The Flirty Lingerie affiliate program will make you money for every customer you send us. The Flirty Lingerie affiliate program offers you 18% of every sale managed by the Shareasale organization one of the most trusted affiliate programs available.
<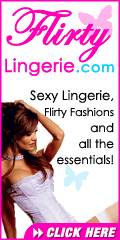 Flirty Lingerie is a proud member of Shareasale Affiliate Marketing.
As an exclusive merchant member we offer the best affiliate program for our affiliates.
18% Commissions per sale.
180 day cookie so you get the benefit of returning customers, and we have a lot of them.
FTP Datafeed Downloads to make it easier to offer our extensive catalog that has grown to over 7,000 products.
Extensive inventory of banners and text links to make it even easier to attract and retain customers.
Would you like to join Flirty Lingerie's growing number of affiliates?
Simply click on the link below and enroll today.
You can be selling Flirty Lingerie's products on your website tomorrow!
Click Here to Join Now!
Why should I join Flirty Lingerie's Affiliate Program?
What is an affiliate program? Flirty Lingerie is a merchant. When you join Flirty Lingerie's affiliate program, you join as an affiliate whether you have a blog, website or are setting up multiple merchant sites to earn money. As an affiliate you decide how you want to display Flirty Lingerie's products on your web site or blog. You can choose to simply place a link or banner to Flirty Lingerie or add some or all of Flirty Lingerie's 7500 products on your site. You choose how few or how many products to add. When a customer comes to your site and clicks on one of Flirty Lingerie's images or links and makes a purchase, you get a percentage of that sale. It is that simple.
Why should I join Flirty Lingerie's Affiliate Program? First of all joining is absolutely free, so you are risking nothing. Second you can link to Flirty Lingerie, one of the webs premier Sexy Lingerie websites. As an affiliate every customer you send to Flirty Lingerie that purchases something results in you receiving a commission. We, through our affiliate management partner, Shareasale handle the purchases, manage the account, and sends you a check every month for the commissions you earned that month. Shareasale has an excellent reputation as does Flirty Lingerie so you can rest assured you will be paid for every sale that results from leads from your site.
When you say it is free, are there any hidden charges? No, there are no charges whatsoever. Ever. You simply fill out a short form, and once you are enrolled, there is no minimum sales requirement. If you send one or one thousand customers to Flirty Lingerie does not matter. If you work very hard to increase your affiliate sales or not is up to you!
Do I have to have a website in the U.S. to be an affiliate with Flirty Lingerie? No! We currently have thousands of affiliates from the United States and many countries throughout the world that have monetized their websites and blogs. The location of your website simply does not matter. You can add one product or thousands depending on what you prefer. While we would prefer and encourage you to add as many products as possible you are free to choose how many products you want to choose.
How do I sign up to be an affiliate of Flirty Lingerie? Simple! Click on the link above! It will take you to our Shareasale supported website where you will provide simple and routine information. Once you submit you will be notified if your application has been accepted, and you will be able to start earning commissions right away. We reserve the right to refuse applicant websites that are objectionable.
How does the Flirty Lingerie affiliate program work? Once you place your application, and you are accepted, you simply place a link on your site pointed towards Flirty Lingerie. Additionally you can list additional products, which we recommend and when a customer clicks on the product and makes a purchase you receive a 18% commission on that any every subsequent sale from that customer for 180 days. AFter 180 days any items that customer purchases are not credited to you unless they access our site from your links.
What else do I have to do to be an affiliate? That is all you have to do to become an affiliate. If you want to increase your sales, which for obvious reasons we recommend, you can subscribe to our FTP- file transfer protocol datafeed, which is also free to you, and list many or all of our products which further increases your chances of a customer clicking on your/own link and increasing our sales.
Will becoming an Affiliate increase traffic to my website. No, our affiliate program is a revenue sharing type program. Your traffic may increase indirectly as more links/listing may increase the likelihood of traffic and customers. The objective is for you to promote your site through quality content, exchanging links with other websites and other search engine optimization techniques that can increase your traffic in a gradual and search engine friendly manner.
How do I go about creating links? Flirty Lingerie has a terrific assortment of banners, buttons and text links that you can use on your website to encourage visitors to your site to visit Flirty Lingerie. Simply use the linking code along with your affiliate id and you will be on your way to generating traffic and income.
Where do you recommend I place the banners, buttons and text links?
You should place links where they are easy for your site visitors to find, such as your homepage. Some areas you may want to place your links include your homepage, your navigation bar, and any other high traffic areas. If you place the links in an easily accessible location on your site, your visitors will be more likely to make a purchase or transaction.
How much can I earn as a Flirty Lingerie affiliate?
There is no standard amount each affiliate will earn through this program. Your earning potential depends entirely on the relative value of the product offering to your customers, and your ability to feature the offering prominently on your web site. In any affiliate program, factors such as relevant traffic and placement of offering will be crucial factors in the overall success.
How do I know how much I am earning?
When you join our affiliate program you will gain access to Shareasale, and their website which will contain your affiliate program together will all your statistics, and the ability to obtain all the information you require on hits and sales and commissions earned.
How often do I get paid?
Provided you earn the required minimum of $25 in commission every month, you will be paid every month. If you do not earn that minimum in one month, we will carry your amount due to the next month, and so on, until your commissions due add up to at least $25.
How do I monitor my sales?
You can monitor your sales by accessing reports on your affiliate page that you can access as often as you like through the Shareasale web site.
Who process the orders?
We do all of that for the customers that you refer to our site. All you have to do is place links on your site, place our product images, or as we have discussed place part or all of our datafeed.
How do you know that the order/s came from my website?
All links from your site to our site contain a unique identifier or affiliate code, that is part of the html that you copy and paste into your site in our banners, links, images or products, so that every time a user comes to us via your site, we know to credit you when a purchase is made. This is only possible, though, when you create all of your Flirty Lingerie codes through our partner, Shareasale. You can check our shareasale at www.shareasale.com
I operate a couple of websites? Can you keep the number of referrals separate? Yes. You can have multiple sites under one Affiliate account. You can create links and generate reports specifically for each site, but you will receive one commission check for all of your sites.
Find Similar Products by Category
Customers also viewed